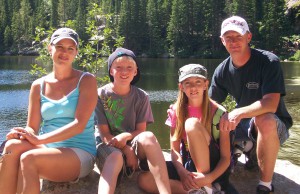 If you had a secure government job that paid $60,000 per year, plus a $20,000 benefit package, would you quit in the middle of a recession? Not many people would……but I did. People think I'm crazy, and they may be right. My name is Les Cowan. I'm 34 years old, and a high school graduate with no college degree, but through hard work, sacrifice, perseverance and dedication I have become a success. I'm not only talking about money; I'm talking about my life. I have a daily walk with Jesus, a loving wife, two awesome kids, and I run my own business. My 32 year old wife DeAnna, is my high school sweetheart. She is a hard working, sacrificial, stay at home mom who homeschool's our kids. On top of that, she takes care of the book work, HR, and helps with multiple parts our business. During this journey, she has had to deal with multiple health problems, including a stroke at 28 years old. I couldn't be successful in this journey without her. I found Dave Ramsey on the radio in 2005, and his advice changed our lives. We were deeply in debt and going deeper into debt every year. After listening to Dave for a month, he inspired me to start my own business to get out of debt. I started a landscape and sprinkler maintenance business. I picked this business because it's what I know and love, and I am very good at it. I have 16 years of experience in this field. I started and ran the business after work and on the weekends for 5 years. I also picked up a third job as a contractor towing portable stages. In spring, summer and fall, I was working 100-120 hours per week. I still found time to spend with my family, and help coach my son's baseball and football teams. To get the business started, I solicited door to door in a couple of local neighborhoods. I started with about 40 customers. Today our client list has almost 800. In the third year we hired our first employee, his name is Russ and he is still with us today. He is a great person and very hard worker. In return we pay him very well. It's challenging to keep good people in a seasonal business, but by sharing my vision, goals and plans for our company, Russ has decided he wants to be part of something great. We're in our sixth year now. I quit my city job in April. It was a hard decision to make, but I have no regrets. We are on pace to grow Happy Roots another 50% this year, which will match our growth rate the last two years during the recession. We are on fire and ready to take Happy Roots to the next level. Dave's EntreLeadership Master Series is the information we need to continue growing with character, professionalism, purpose, quality, happy customers, and happy employees. Thank You! Les Cowan & The Happy Roots Team – Thornton, Colorado – www.coloradohappyroots.com
We won the nationwide scholarship competition with over 4,200 online votes from our awesome customers, friends, family and Dave Ramsey listeners. The scholarship included a trip to Cancun, Mexico for one week where we learned how to run our small business like Dave runs his.  We learned a lot and had a lot of fun, too.  It was a great experience with one of the greatest business owners in the world.  Thanks again to everyone who helped us achieve this goal.
Les & DeAnna Cowan with Dave & Sharon Ramsey
In Cancun, Mexico for EntreLeadership.
It may change your life!