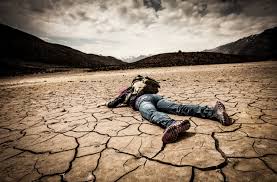 Feeling a little dehydrated?  If you live in Brighton, Thornton, Broomfield, Northglenn, Erie, Lochbuie, Reunion, or Westminster Colorado, YOUR LAWN DOES!
For some of you, you may be wondering why your lawn is looking brown and terrible.  Well it is very simple.  We are in a mini drought right now.  We have had above average temperatures for the last month, with very little natural moisture.  So there is a simple solution…..WATER.  Yep, that is what your yard needs most RIGHT NOW!  Like TODAY, or better off YESTERDAY!  Yes it is important.  I'm not talking about just going out and spraying it with the hose real quick, it needs a really good soaking.
I was out digging this week while turning on sprinkler systems, and the ground in these brown areas is literally crumbling it is so dry.
So we are in a bit of a pickle when we don't get natural rainfall or snow this time of year.  We all don't feel comfortable turning our sprinkler systems on this early because of the possibility of freezing.  That is fine.  While you are out at Home Depot today, pick up a large yard sprinkler, and hook your hose up to it and soak every square foot of your yard.  Leave it on each section for about 30 minutes to an hour.  Do that at least 2-3 times per week until your sprinkler system is on or we get GOOD snow or rain.
There is snow  and rain in the forecast again this week, but don't wait for that, because it may not happen like last week.
If you have a lot more weeds right now, the lack of water is also the cause of that.  When our yards thin out, the weeds start to win the competition.  The best weed control is a thick lawn!!  So the lawn needs water to thicken up.
Another problem that can arise right now is Mite damage, because they like the dry south west facing slopes, and they will kill your yard.  But don't worry, all you need to do to get rid of them is WATER!!  Don't let TruGreen or any other company try to sell you Mite-icide.  You don't need that…..again, just WATER.
So, ready set go!  Get to watering!!
Your personal lawn care professional,
Les Cowan
President – Happy Roots Inc.